Restoration of the monumental staircase of the facade of the Centrale Montemartini
Between the months of October, November and December 2017, with the funding of ACEA, Areti S.p.a., the company "Roberto Civetta Conservazione e restauro opere d'arte" (Roberto Civetta Conservation and Restoration of Works of Art) carried out restoration work on the monumental double ramp staircase of the facade of the Montemartini power station.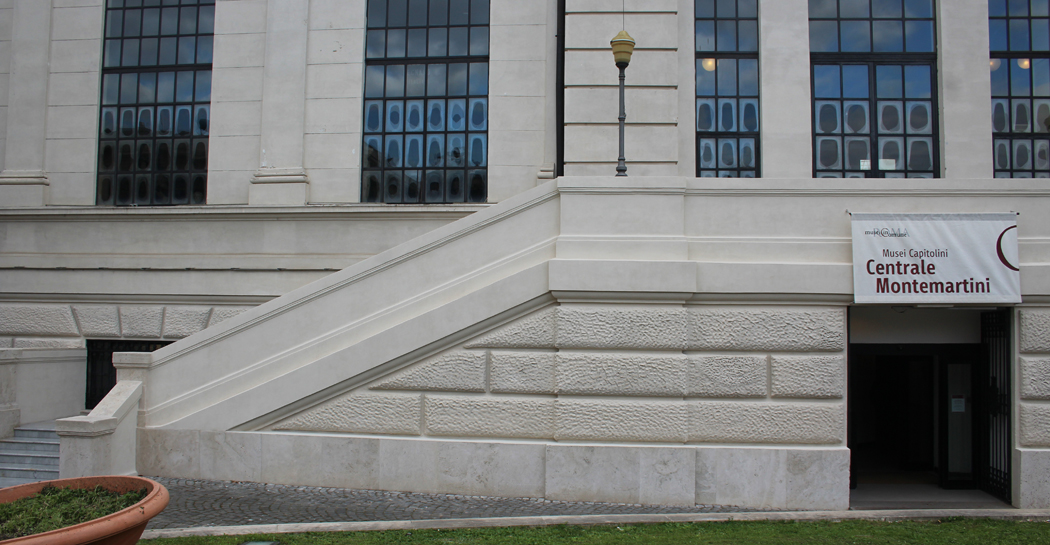 The restoration also included the basement of the main and lateral building with false ashlar plaster, false travertine plaster and the basic basement slabs in travertine.
The intervention has provided for:
disinfection from colonies of micro-organisms by the application of biocide substances with a brush and subsequent mechanical removal of biological residues with sorghum brushes and controlled pressure water washing.
The removal of damaged plasters.
Dry cleaning with localized "Jos system" to remove consistent and compact deposits (black crusts on travertine).
Localized chemical cleaning.
Localized stabilization
Grouting with mortar based on hydraulic lime and aggregates similar in appearance and composition to the original
Chromatic balance of old fillings
Aesthetic presentation: coating of plaster surfaces with a pigmented lime milk prepared on site and subsequent glazing.
The metal elements present (the metal gratings and the entrance gate) have been brushed, treated with rust converter and painted.
The necessary investigations, realized through microstratigraphic study, have been carried out by Artelab s.r.l.